111 FREE Teacher Tips for your classroom
Printable for display, or digital reference
RESOURCES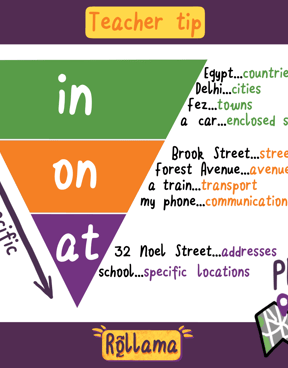 Rollama is a powerful tool in your toolbox of teaching methods.
Students still need great teachers to guide them through the grammar jungle, explain concepts, draw attention to rules, and point out exceptions.
Independent reference when there's no one else to ask
However, we know that not every misconception and prior learning gap can be filled by a teacher: too many gaps; too little time.
Students who are practising tricky skills independently need access to clear information which can demystify the process or reinforce half-remembered rules of thumb.
How we designed a practical and sustainable solution
We've made one-page Teacher Tips for every page on the site, to help students who need a little reminder.
Our Teacher Tips don't replace a full lesson of explanation and guided practice, but they can be a useful starter or reminder – on screen, via airdrop, or on the wall.
You can also print them all for free to do whatever you need.
We hope they can help the penny drop when students are thinking hard about improving their accuracy and fluency.
Students can open a Tip before, during or after their game via the Teacher Tip icon: